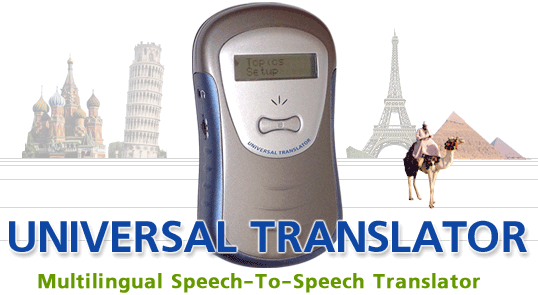 ---
The first multilingual voice recognition dictionary
Universal Translator
Ectaco, Inc. is happy to offer you the company's most well-known product, the
Universal Translator UT-103.

The first multilingual (English-French-German-Spanish) speech translator in the world!
UT-103 - The Universal translator with voice recognition.
The UT-103 has a unique speech recognition system - say a phrase in English,
the device recognizes it, and translates it into any of three languages (French, German, Spanish)
and it can even say the translation aloud!
HOT NEWS!!!

The English-Russian bi-directional voice translator UT-203 is now available!

UT-203 - new tourist phrase bank with English and Russian Speech Recognition

Working with the UT-203 is quite simple. The user pronounces a phrase in Russian, the device recognizes this phrase, translates it and pronounces the translation in English or German. Accordingly, when an English phrase is pronounced, it is translated into Russian or German. A special multi-function control button allows a rapid navigation between the topics and phrases, and a liquid crystal display shows the recognized and translated phrases.
| | | |
| --- | --- | --- |
| Our best device for language learning and communication. | Free Speech Translator. No Internet connection needed; start translating with it right out of the box. | A necessity for travel. Communication has never been this easy or fun! |
| Big value for small budget. Instant talking translation of almost any word. | The perfect eReading device for business documents, educational texts, and leisure books. | OFFLINE Voice Translator - Translates anything you say. |
The Largest Collection of Free Online Translation Services
Free Online Dictionaries
Free Online PhraseBooks
Free On-line Full text translators
Free On-line Flashcards
Free On-line English Grammar
Our parnters - Press releases
© 1990-2021 Ectaco Ectaco, Inc. - speech recognition dictionary
sales@ectaco.com